The Amber road was an ancient trade route for the transfer of amber from coastal areas of the North Sea and the Baltic Sea to the Mediterranean Sea. Prehistoric trade routes between Northern and Southern Europe were defined by the amber trade. As an important raw material, sometimes dubbed "the gold of the north", amber was transported from the North Sea and Baltic Sea coasts overland by way of the Vistula and Dnieper rivers to Italy, Greece, the Black Sea, Syria, and Egypt thousands of years ago, and long after.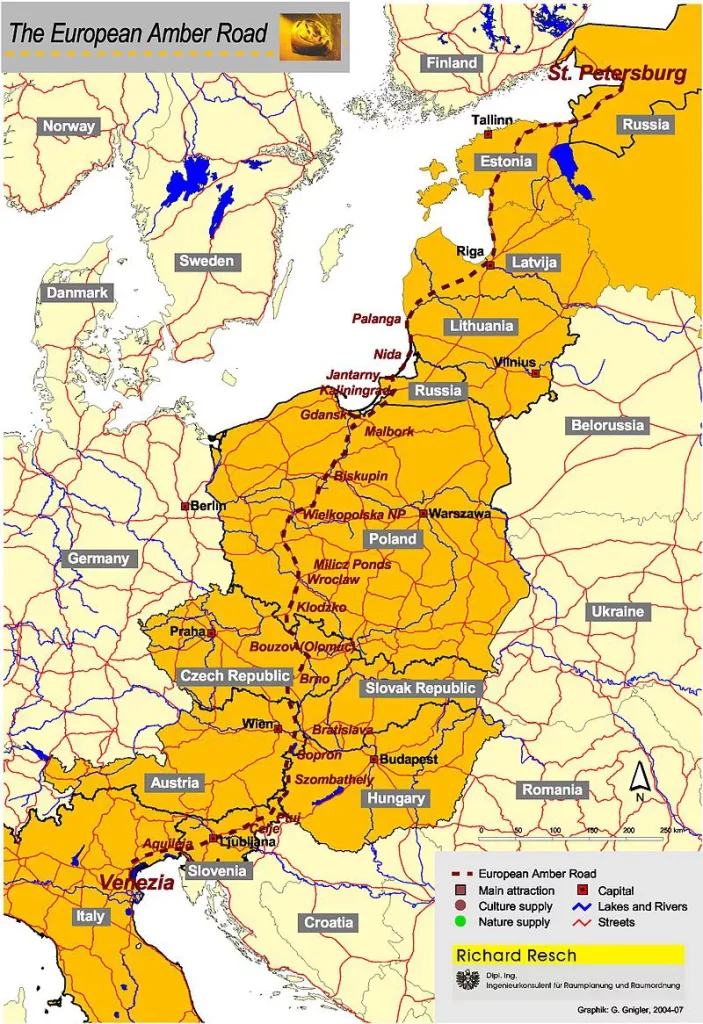 Antiquity
From at least the sixteenth century BC amber was moved from Northern Europe to the Mediterranean area. The breast ornament of the Egyptian pharaoh Tutankhamun (ca. 1333-1324 BC) contains large Baltic amber beads Heinrich Shliemann found Baltic amber beads at Mycenae, as shown by spectroscopic investigation. The quantity of amber in the Royal Tomb of Qatna, Syria, is unparalleled for known second-millennium BC sites in the Levant and the Ancient Near East. Amber was sent from the North Sea to the temple of Apollo at Delphi as an offering. From the Black Sea, trade could continue to Asia along the Silk Road, another ancient trade route. In Roman times, a main route ran south from the Baltic coast through the land of the Boii (modern Czech Republic and Slovakia) to the head of the Adriatic sea (modern Gulf of Venice).
The Old Prussian towns of Kaup and Truso on the Baltic were the starting points of the route to the south. In Scandinavia the amber road probably gave rise to the thriving Nordic Bronze Age culture, bringing influences from the Mediterranean Sea to the northernmost countries of Europe.
Sometimes the Kaliningrad Oblast is called the "amber area".